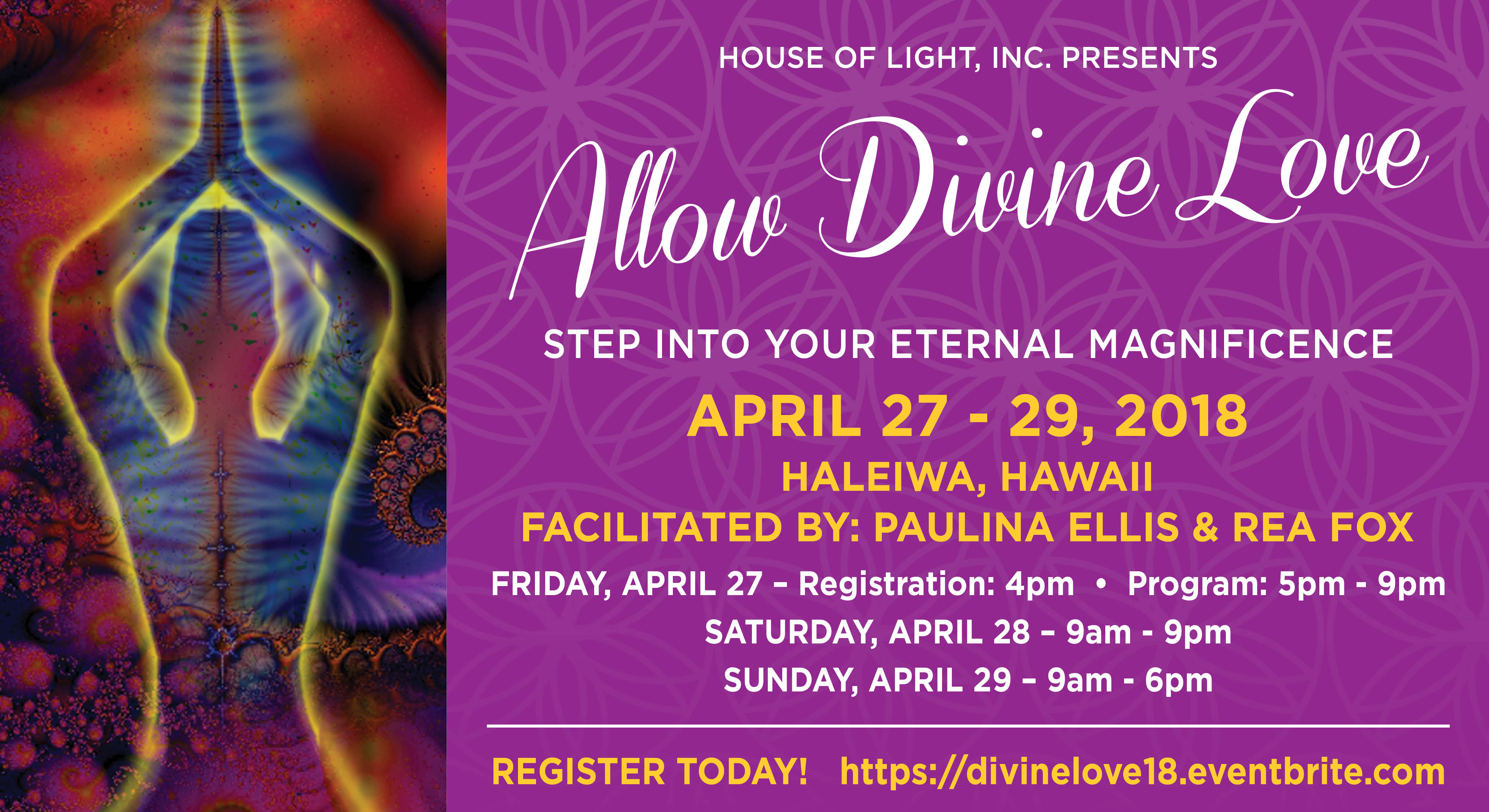 JOIN US AND CREATE A NEW & BEAUTIFUL LIFE OF INFINITE POSSIBILITIES!
Now is the Time!
Clear all existing patterns and blocks allowing LOVE to re-enter your life.
• Liberate aspects of your personality that no longer serve you.
• Clear emotional imbalances as they arise and maintain a freedom in your heart.
• Develop a sacred relationship with yourself and others that goes far beyond personalities.
• Discover how Soul Love can dissolve blockages and transform personal relationships.
• Realign with the greatness of your Sacred Self
• Release all that is preventing you from living in the Grace of Divine Awareness.
Are you ready to live your most vibrant life, more than you ever experienced before?
Allow Divine Love and forever recognize your eternal greatness!
Schedule of Events
FRIDAY, APRIL 27
Registration: 4:00 PM, Program: 5:00 PM – 9:00 PM
SATURDAY, APRIL 28
Program: 9:00 AM – 9:00 PM
SUNDAY, APRIL 29
Program: 9:00 AM – 6:00 PM
---
Love your Sacred Body and thrive
Upgrade in your physical frequency
Activate your Sacred Body
Experience a rejuvenation of your physical systems
Ignite your power center
Tap into your profound body wisdom
Unleash your RADIANCE, SELF-CONFIDENCE, SELF-AWARENESS, and SELF-LOVE!
Experience renewed ease, strength, energy and joy in all areas of your life.
Witness the power of DIVINE LOVE in your daily life. Free your heart and receive the blessing of True Love. Align and harmonize your soul-body connection. Be the peace & wisdom of your Soul.  Experience the depth of your soul's guidance in "Shift Your Body Consciousness and "Allow Divine Love" Retreat to create a new and beautiful life of infinite possibilities.
---
Sacred Body Initiation
Participation in the retreat requires a Sacred Body Initiation. This can be completed at the April 7 Sacred Body Workshop or via a 4-hour online session with Paulina Ellis. If you participate in the Sacred Body session on the 7th, you will receive a discounted retreat rate. To register for the April 7 – Sacred Body Workshop, visit: https://sacredbody18.eventbrite.com
---
Location
Retreat will be held in Haleiwa, Hawaii. The location will be made available upon registration.
Retreat Cost*
RETREAT ONLY – $688.00
Includes 4-hour online Sacred Body workshop with Paulina Ellis. (Does not include lodging)
ALL-INCLUSIVE PACKAGE (Retreat and Lodging) $1088
Those who participate in the April 7th Sacred Body will receive a discount for the retreat.
Retreat Cost Includes: Workshop, materials, lunch, dinner, and light refreshments. Meals will be be natural and organic.
*a payment plan is available.  Please inquire via email info@houseoflightinc.org
Retreat Lodging
LIMITED ON-SITE LODGING IS AVAILABLE AT AN OCEANFRONT HOME.
Sitting directly on the shore of Waimea Bay Point, the home is recently renovated, extremely clean, with brand new everything —all the necessities. Single or double occupancy rooms (featuring either a Queen or King size bed) are available. Lodging
includes: shared bathroom; outdoor showers; full laundry and shared bicycles. The retreat will be held in walking distance of three world-famous beaches (Waimea Bay, Shark's Cove and Three Tables), a grocery store, a coffee shop, and food trucks.
If you do not stay at the retreat site, there are several vacation rentals in the area which can be found on vrbo, airbnb, or other websites. Turtle Bay Resort is also located in the area, 15-20 minutes from our site.
Parking
PARKING AT THE RETREAT IS LIMITED.
Free street parking is available within a short walking distant, in front of Three Tables Beach.
Are you ready for Divine Love to Transform Your Life?
Facilitators
PAULINA ELLIS
goddessspirit@gmail.com • TheSacredTeachings.ca. Through a Personal Guidance Session, Paulina brings you to the core of what is preventing you from living your greatness to clear and free yourself. Paulina offers powerful Sacred teachings in  lectures, online courses and retreats. In "Shifting the Body Consciousness", Paulina brings women to experience rejuvenation while transforming their relationship
with their bodies, an important step on the journey to "Allowing Divine Love" into everyday life!  She is a Sacred Sound Intuitive who guides people through profound and loving soundscapes.  Participants are transported on a journey to inner Harmony, Clarity and Alignment. A unique and colorful experience! Paulina is on a mission to spread Love to all humanity!
REA FOX • iamreafox@gmail.com • www.iamreafox.com  is a "Spiritual Healing Concierge". A Cards of Destiny System Interpreter for more than two decades, she continuously immerses herself in experiences she joyfully shares with others to assist
in a Global Transformation in Love.
For more information call 808-623-8551 or email: info@houseoflightinc.org